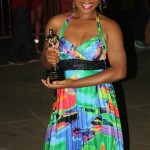 The 2011 Nigerian Promoters Association summit and awards held in Atlanta, was hosted by Tracy O'bonna and Pascal Atuma, with great performances by North America based Nigerian entertainers, such as Oshine and Dking Rokan.
The Annual summit is an annual meeting of Entertainment Administrators such as; promoters, music producers, event planners, record label companies, Artiste managers, DEEJAYS, Entertainment media personalities, film producers, fashion designers, Arts, sports est. coming together to meet and deliberate thoroughly on how to better improve the standard of the Nigerian Arts and Entertainment industry as a one point agenda by the year 2015. In addition, it should be categorically noted therefore, that the Nigerian promoters Association is not politically oriented and will not give room to be politically influenced by any Nigerian politician or political party as the case may be.
The NPA 2011 event is planned to be bigger and better holding in Atlanta Georgia on SEPTEMBER 2ND-5TH respectively. The Arts and Entertainment Business Awards is to recognize, to celebrate and to further promote the Nigerian entertainment practitioners based in the United States of America. This way more talents will be discovered because of the competition it will definitely create. While the already discovered talents will also have reasons to do better and remain relevant in the industry.
Harriet, host of AMC's Access Africa went home with the Best Media Personality Award.
NPA ATLANTA 2011 AWARD WINNERS
CATEGORIES WINNER
1. BEST COLLABORATION JeRecord
2. BEST MUSIC SINGLE Oshine
3. BEST NEW ACT OF THE YEAR Doggext and Gloria Maduka
4. BEST GOSPEL MUSICIAN Paul Irabor
5. INDIGENOUS ARTIST OF THE YEAR Dking Rokan
6. BEST R&B ARTIST OF THE YEAR Rotimi
7. BEST DEEJAY OF THE YEAR (U.S.A) Dee'Jay DonX
8. BEST INTERNATIONAL DEEJAY DeeJay Neptune Oladunni
9. BEST COMEDIAN OF THE YEAR Seyi Brown
10. BEST FEMALE MUSIC VIDEO OF THE YEAR Tolumide
11. BEST MALE MUSIC VIDEO OF THE YEAR Oshine
12. BEST POP ARTIST OF THE YEAR Nenna Yvonne
13. BEST AFRO HIPHOP ARTIST Maxpain
14. BEST MALE ACT OF THE YEAR Meaku
15. BEST RAP ARTIST OF THE YEAR Tmoney
16. BEST GOSPEL INSTRUMENTALIST Onome Ovwori
17. PROMOTER OF THE YEAR Olumide Anjorin
18. BEST ENT. PHOTOGRAPHER Bode Ojo (Golden Icons)
19. ENTERTAINMENT PERSONALITY OF THE YEAR Marion Amanambu
20. BEST MOVIE PRODUCER OF THE YEAR Oliver Mbamara
21. BEST ACTOR OF THE YEAR Hakeem Kae Kazim
22. BEST ACTRESS OF THE YEAR Seun Maduka
23. BEST MOVIE DIRECTOR Tony Abulu
24. BEST MOVIE OF THE YEAR Pascal Atuma
25. BEST ENT. BLOG SITE OF THE YEAR Jaguda.com
26. BEST ENT. WEBSITE OF THE YEAR Mixmasterbrown-Afrijamz
27. BEST MEDIA PERSONALITY Harriet T.Arokoyu-AMC
28. BEST FEMALE MODEL OF THE YEAR Tracy Obonna
29. BEST REGGAE/DANCEHALL ACT Popasay
30. BEST INDIGENOUS INSTRUMENTALIST Kolade Oyediran
31. BEST FEMALE ACT OF THE YEAR Tiwa Savage
32. BEST MUSIC PRODUCER Emma Agu
33. BEST MUSIC VIDEO DIRECTOR Michael Olaseinde
34. MOST POPULAR SONG OF THE YEAR Kini Swagger-Tolu Playar
35. MOST POPULAR PROMOTION COMPANY Ovacommedia
36. BEST PARTY PROMOTER OF THE YEAR Dare Akanbi-Dejavu Ent.
37. BEST FASHION DESIGNER Estella Couture
38. BEST INTERNATIONAL MUSIC ACT MO Eazy
39. BEST WORLD MUSIC King Sunny Ade
40. BEST SPORTS PERSONALITY Adewale Ogunleye
NPA ATLANTA 2011 HONOR AWARDS
1. ACHIEVEMENT AWARD FEMI OJETUNDE
2. ACHIEVEMENT AWARD TITUS OLOWOKERE
3. INT'L NEXT RATED ACT AWARD LINEO
4. ACHIEVEMENT AWARD GOV. OSHIOMHOLE
5. HUMANITARIAN AWARD BABS IBRAHEEM