First of, shout out to all the winners. You guys deserved it. And to the losers.... Well, you aren't a loser, you just didn't win an award, you're also a star.... *smoochies*
Ok NOW it business TIME. Going through the pictures on Bella.... Hmmm, well, who would have thought it was possible that fashion blunders of epic proportions would take place in fashionable NYC. Anna Wintour must have had a *shit fit* in her vogue office especially since the vibes from the space symphony must have disrupted the positivity needed to publish the world renowned september issue of Vogue.
Tiny: I think Tiwa looks daper, he wears the suit so damn well, the lady with the teal shoes has good taste, her shoes complement her dress & for some funny reason, it works that d other girl is wearing a teal dress and black shoes, like its vice versa,lol. What do you think Toya?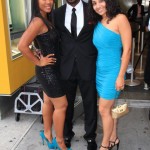 Toya: Lol Tiny, Tiwa really knows how to work a suit, especially being a petite cutie like himself. I think he did very well, and ladies we thank you for complementing Mr ABE! Job well done! For the girl on the left, her teal shoes compliments her black dress perfectly. And vice versa for the girl in the teal dress.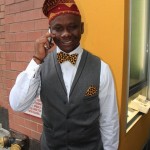 Toya: Dude, like seriously, what is going on my nigga? What look were you going for again? It is all questions with this one I give up. Tiny
Tiny: Lmaoo, I feel your pain. Where do I begin? The cap, the bow tie.... I mean that bow tie.... Eeeek! It all wrong, he looks worse than a secondary school village teacher tryna be hip. NEXT!!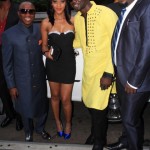 Toya: Julius Agwu, we will get at you later. Temitope (thelma) is one hot tamale in this lbd and the jewel coloured shoes are a nice polished finish to the outfit.
Tiny: That is Chris Attoh right?
Toya: Yup
Tiny: Chris in the yellow Tunic isn't bad but its not award material honey. Temitope looks amazing, I have no beef with her Tiny says you win.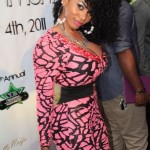 Tiny: OMG.... As in WTF!!! Where do I start? The outfit or the body... Is that her waist?? I'm confused... And the hair... Sheeesh. It looks like a jungle. Way too pretty to look this tacky.. LFP is going to look into your sentencing!!
Toya: I know right, she could actually be pretty if only she drops the hood rat demeanour. She might just be an alien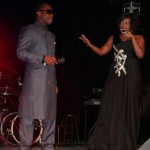 Toya: Yes julius, what is the problem now? A short man must never never wear a shirt or anything that goes below his knees, how do u not know this?
Tiny: Exactly, WTF is Julius Agwu wearing?? Was it too cold for him in NY? What's his excuse? And his shoes?? I don't get it... Is the Nollywood version of Matrix coming out anytime soon?? Funke Akindele aka gbo gbo bigs geh's.. Haha. I love her, her outfit looks nice, I don't really like the design of the detail in front but the dress is award worthy.
Toya: Jenifa 1 made a good effort, I quite like the detail without it the dress would have been boring, however she needs to consider more polished hair choices.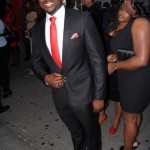 Toya: Tiny, can I have a room and some condoms please
Tiny: Hahahaha.. Look out, its the Hot one... Hmm Dj Obi, you are one fine brother, you also know how to look good, the red tie popped out to me and I love it.. The shades, iono, not my thing to ware shades in the dark, but apart from that.. HOTNESS!! LFP Tiny gives u a pass mark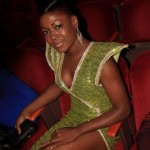 Toya: Yeah about the sunnies, we don't do sunnies when the SUN goes down.
Tiny: I'm sorry Toya but who is this?
Toya: This Jetsons wannbe is Susan Peters Nollywood actress. I don't get the bejewelled futuristic hot mess of a dress. It has the season's hot trend, a slit but that is about it. This one has failed terribly
Tiny: *does sign of the cross*... Lady what is this?? What were you trying to accomplish?? EPIC FAIL!!
Tiny: I just wanna say Waje losing weight makes her look amazing... I mean she is working that outfit... Definitely looks like the Diva she is. Waje you are a LFP certified Diva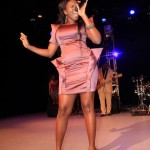 Toya: Waje, amazing talent, nice dress, love the colour and cut of it, however I do not think those mary janes are appropriate and definately not in grey and lemon shades. Yup, LFP Certified.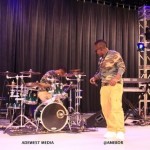 Toya: Mr Incredible, if those are adidas, do they really have to be white? White sneaks, khaki pants and a camouflage shirt? Not a good look my nigga
Tiny: I always seem to have a problem with MI, I mean I know he can pull off a good look but he never seems to get it right. Jude Abaga this combination is wrong!!!
Well people, that's all we have for the NEA Awards, there were a lot of Fashion blunders and I'm sure you agree with us. Tiny and I did not want to go hard on y'all cos we still want you guys to love us, hehhehehehe but not for long, we shall be sinking your teeth real deep soon.
Kisses from Tiny Vuitton and Toya Veneta
Posted by Lagos Fashion Police at 18:18 3 comments
Email This BlogThis! Share to Twitter Share to Facebook Share to Google Buzz
Who We Are
Hey all,
Ok I'm sure everyone wants to know who we are, who are those behind the Lagos Fashion Police....
All you need to know is this. We are 2 young stunning talented ladies who love fashion, you can call us Tiny Vuitton and Toya Veneta.
For too long, we've seen people in Lagos take the piss with style and then call is Fashion. This has got to stop. A whole lot of people complain on twitter and facebook but ofcourse no one really wants to come out and point fingers at those who disgrace the amazing name of Fashion.. So we're here to do that for you.
We know you and you know us but the fun thing about it is that you don't know that you know us.... Hehehe. Isn't this fun??
Ok we're not here to fight or diss people for the fun of it, we're just here to tell you 'do it right'. And for sure, those who have an amazing sense of style and bring glory to Fashion will be praised.
We understand that it is human nature to make mistakes sometimes, but the Fashion Police motto states and we quote, *To be on top of your fashion game, you must renounce all crimes to fashion or else get your Ass hurled off to jail!*
We love you... Hugs and Kisses
Culled from LagosFashionPolice blog