PRESS RELEASE
LAGOS, NIGERIA September 14, 2011
SAMKLEF PRESENTS: NONILLIONAIRE ANTHEM FT. IZ & U... Yes U!!!
In a move to show appreciation to his fans for the love over the past year, Samklef is going to be giving one esteemed fan or upcoming/unsigned artiste the opportunity to hold down 8bars in his upcoming new single "Nonillionaire Anthem" ft. I.Z off the #AmericanMixtape dropping soon.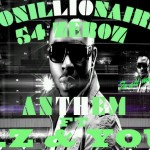 If you're an upcoming/unsigned artiste from anywhere in the world and you're interested, all you have to do is download the song from the download link below and record on the empty space in the third verse. Send your finished version to ybrlconsultancy@gmail.com on or before Saturday 28th September 2011.
We will consider all entries and pick whichever one we feel is the most suitable for the song. The picked one will be promoted and a video will be shot for it. We hope this will help launch a career for the individual whose version is selected.
Pls note that this is not a competition, it is just a way of saying thank you to the fans, let's all have fun and feel good with it.
Thanks.
Signed: Skillz YBRL
for YBRL Consultancy
[wpaudio url="http://www.amcng.tv/wp-content/uploads/2011/09/Samklef-Nonillionaire-Anthem-Ft-iz.mp3" text="SAMKLEF - NONILLIONAIRE ANTHEM"]
Click PLAY to listen.