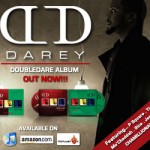 R&B star, Darey gears up to release his double disc album in a matter of days, NET has exclusive news that the popular R&B singer-songwriter has collaborated with Nigerian American rapper Chamillionaire to record a remix to one of his singles.
Sources say Darey, who's enjoying massive on-air support for his singles 'The way you are', 'Sisi eko' and 'Ba ni kdi', has recorded a remix of 'The way you are', with the Grammy award-winning rapper Chamillionaire who even spiced up his lyrics with Yoruba language.
'They hooked up on the internet' an insider tells NET. And it is believed it was Cham that contacted Darey.
Born to a Nigerian father, 31 year-old Chamillionaire (real name Hakeem Seriki) is an American rapper mostly known for his monster hit 'Ridin'' (featuring Krayzie Bone of Bone Thugs n Harmony) which earned him the Video Music Awards in 2006, and a Grammy Award for Best Rap Performance by a Duo or Group in 2007.
Critics say the remix with Chamillionaire might very well see Darey who is an ambitious singer, launch his career and presence into the global scene as he has already announced plans for a 2011 UK release, followed by a US project.
'The Chamillionaire collabo was not planned at all, it came as a surprise. The ones we were really planning are still in the pipeline. Once these come through, and we have a go-ahead, we'll definitely let you know…', one of his associates tells us.
Source: (www.thenetng.com)